Work Facilities Redesign Based on Subjective Complaints of Eggroll Snacks Workers
Keywords:
Subjective complaint, Non-ergonomic work attitude, Redesign of work facilities
Abstract
Eggroll snack workers often experienced subjective complaints on the waist, back, lower neck and upper neck, as well as the right forearm. This is caused by awkward work attitudes such as bending, looking down, standing and sitting for too long which is done repeatedly. This awkward work attitude is caused by non-ergonomic work facilities, such as a work desk that is too high or a work chair that is too short. So that subjective complaints experienced by workers can be minimized, it is proposed to redesign the work facilities of the eggroll snack production process based on ergonomic principles. The redesign includes 1) adding a support to the dough container with a height of 82.6 cm and can be raised and lowered; 2) redesign of the work table with a height of 64.5 cm, a width of 61 cm, a forward arm reach of 45.4 cm, and a redesign of a chair with a height of 70 cm and a side reach of 46.7 cm; and 3) the addition of product packaging supports with a height of 50.8 cm, chair height of 40 cm, and reach of the hands forward of 38.8 cm.  The redesigned work facility is expected to be followed up by business actors, so that workers feel comfortable working, free from subjective complaints.
Downloads
Download data is not yet available.
References
T.-H. Lee and C.-S. Han, "Analysis of working postures at a construction site using the OWAS method," International Journal of Occupational Safety and Ergonomics, vol. 19, no. 2, pp. 245–250, 2013.
R. D. Astuti and B. Suhardi, "Analisis Postur kerja manual material handling menggunakan metode OWAS (ovako work postur analysis system)," GEMA TEKNIK Majalah Ilmiah Teknik, vol. 10, no. 1, p. pp-67, 2009.
R. H. Nasution, "RANCANGAN PERBAIKAN FASILITAS KERJA PADA STASIUN ASSEMBLY LINE GUNA MENGURANGI KELUHAN MUSCULOSCELETAL DISORDERS (MSDs) DI CV NAGA MAS TANJUNG MORAWA," Jurnal Ilmiah Teknik Industri Prima (JURITI PRIMA), vol. 2, no. 1, 2018.
S. Musyarofah, A. Setiorini, M. Mushidah, and B. Widjasena, "Analisis postur kerja dengan metode REBA dan gambaran keluhan subjektif musculoskeletal disorders (MSDS)(pada pekerja sentra industri tas Kendal tahun 2017)," Jurnal Kesehatan, no. 1, pp. 24–32, 2019.
C. I. Dharmayanti, I. D. P. Sutjana, and N. Adiputra, "Perubahan Sikap Kerja Bersasarkan Kaidah Ergonomi Menurunkan Beban Kerja Dan Keluhan Subjektif Serta Meningkatkan Produktivitas Kerja Pengrajin Bola Mimpi di Desa Budaga," Bali Health Journal, vol. 3, no. 1, pp. 1–8, 2019.
P. Tarwaka and L. S. Bakri, "Ergonomi Industri Dasar-dasar pengetahuan ergonomi dan aplikasi di tempat kerja," Solo: Harapan Press Solo, 2010.
D.?; S. E. Jatisworo, Buku Saku Laut Nusantara - BROL. 2018.
I. D. Maulina, A. Purbayanto, and T. W. Nurani, "PENGGUNAAN CELAH PELOLOSAN PADA BUBU UNTUK MENGURANGI TERTANGKAPNYA KERAPU MUDA DI PULAU KARIMUNJAWA (The Use of Escape Gaps on the Basket Trap for Reducing Immature Grouper Catch in Karimunjawa Island)," Saintek Perikanan: Indonesian Journal of Fisheries Science and Technology, vol. 17, no. 4, pp. 254–261.
S. A. Wagiu, "Pendekatan Diagnostik Low Back Pain (LBP)," FK UI. Jakarta, 2005.
W. Susihono, N. Adiputra, K. Tirtayasa, and I. D. P. Sutjana, "Intervensi Partisipatori Ergonomi Menurunkan Kelelahan melalui Re-desain Ladle-kowi," Media Kesehatan Masyarakat Indonesia, vol. 13, no. 1, pp. 80–90, 2017.
S. Siswanto, E. M. Widodo, and R. Rusdjijati, "Perancangan Alat Pengupas Salak dengan Pendekatan Ergonomi Engineering," Borobudur Engineering Review, vol. 1, no. 1, pp. 25–38, 2021.
H. S. E. Rahayu, R. Rusdjijati, and K. Wijayanti, "Unimma Work Fatique Instrument (UWFI): Sebuah instrument baru untuk mengukur kelelahan kerja," Journal of Holistic Nursing Science, vol. 7, no. 1, pp. 39–45, 2020.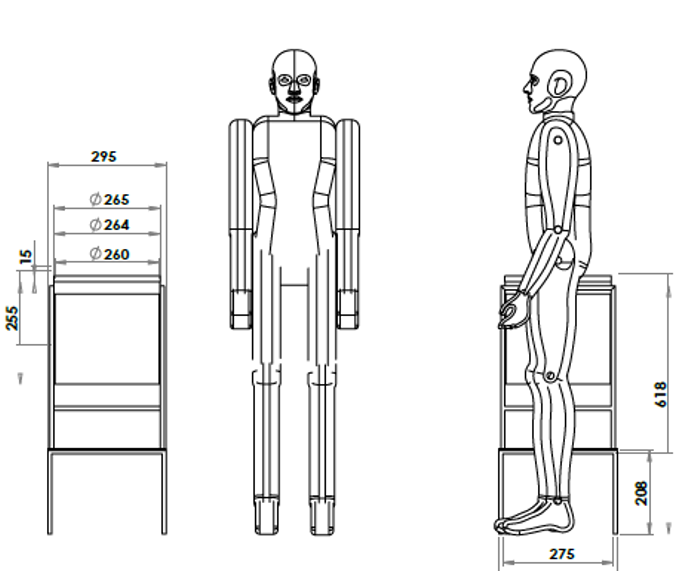 Downloads
How to Cite
Istianto, T. A. ., Rusdjijati, R., & Al-Manan, O. R. . (2022). Work Facilities Redesign Based on Subjective Complaints of Eggroll Snacks Workers. Urecol Journal. Part E: Engineering, 2(2), 62–72. https://doi.org/10.53017/uje.178
License
Copyright (c) 2022 Tri Anggoro Istianto, Retno Rusdjijati, Oesman Raliby Al-Manan
This work is licensed under a Creative Commons Attribution-NonCommercial 4.0 International License.