Experimental Study of Exhaust Manifold Modification using Orifice on Suzuki Satria F 150
Keywords:
Exhaust manifold, Orifice, Engine Performance, Sfc
Abstract
This study aims to determine the effect of modification of Exhaust Manifold using orifice on engine performance of Suzuki Satria F 150. Experiments were carried out by installing orifice blinds with diameters of 18, 20, 22 mm and circular perforated orifices with diameters of 19, 19.5, 20.5, and 20. mm on the exhaust manifold. Engine performance, torque and power were tested with dyno test. Fuel consumption is measured using a measuring tube. The results showed that using an orifice blind modification, the smaller the exhaust manifold area, the smaller the torque and power produced. The modification uses an orifice hole, the torque and power produced are close to the standard exhaust manifold. Optimal sfc on modifications using orifice blinds is obtained at engine speed of 6000 to 8500 rpm. While at engine speed of 9000 rpm and above, the modification of the exhaust manifold orifice hole is more optimal.
Downloads
Download data is not yet available.
References
S. Jain and A. Agrawal, "Coupled Thermal-Structural Finite Element Analysis for Exhaust Manifold of an Off-Road Vehicle Diesel Engine," International Journal of Soft Computing and Engineering (IJSCE), vol. 3, pp. 223–226, 2013.
K. S. Umesh, V. K. Pravin, and K. Rajagopal, "Experimental Investigation of Various Exhaust Manifold Designs and Comparison of Engine Performance Parameters for These to Determine Optimal Exhaust Manifold Design for Various Applications," in ACEEE Conference Proceedings Series, 2013, vol. 2, pp. 711–730.
A. Sanata, "Pengaruh Diameter Pipa Saluran Gas Buang Tipe Straight Throw Muffler Terhadap Unjuk Kerja Motor Bensin Empat Langkah," Rotor, vol. 4, no. 1, pp. 32–39, 2011.
A. N. Syaief, T. Norsujianto, R. R. Maulana, and S. Maknunah, "Pengaruh Exhaust Manifold Terhadap Konsumsi Bahan Bakar Pada Suzuki Smash Tahun 2007," ELEMEN: JURNAL TEKNIK MESIN, vol. 1, no. 1, pp. 18–21, 2015.
R. P. Putra, Sutardi, W. A. Widodo, and R. P. Pratama, "Passive flow control in square duct and 90° elbow with circular turbulator at certain gaps," in AIP Conference Proceedings, 2019, vol. 2187, no. 1, p. 20044.
J. B. Heywood, Internal combustion engine fundamentals. McGraw-Hill Education, 2018.
K. Philip, "Motor Bakar Torak-Teori & Aplikasinya," ANDI. Yogyakarta, 2015.
W. D. Raharjo, "Mesin Konversi Energi." Semarang: Universitas Negeri Semarang Press, 2008.
B. P. M. Arends and H. Berenschot, "Motor bensin," Jakarta: Erlangga, 1980.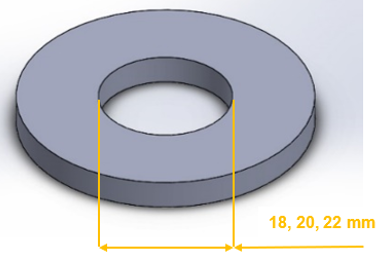 Downloads
How to Cite
Putro, S. ., Maulana, A. I., & Purwanto, R. W. (2022). Experimental Study of Exhaust Manifold Modification using Orifice on Suzuki Satria F 150. Urecol Journal. Part E: Engineering, 2(2), 73–81. https://doi.org/10.53017/uje.179
License
Copyright (c) 2022 Sartono Putro, Auliya Imam Maulana, Ribut Wahyu Purwanto
This work is licensed under a Creative Commons Attribution-NonCommercial 4.0 International License.